Summary:
The gym proves to be the perfect hunting ground for hot guys to stretch their muscles and sweat it out.

Everyone can use a helping hand and more when working out. All that physical training and body conditioning can be more rewarding with someone sweating at your side. So get with the program, find a buddy and make sure all that hard work pays off in the end.
Description / Review: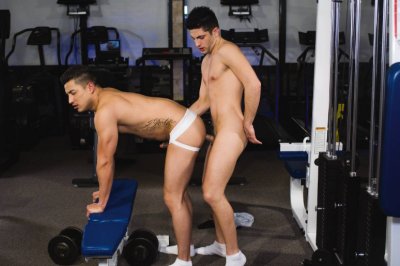 Scene1: TJ Hawke spots Hunter Vance lifting weights and offers to be his workout buddy. The close contact during the rigorous workout soon evolves into a more intimate and deeper connection. They trade off sucking each otherís cocks deep down throats before TJ slams his tool deep inside Hunterís ass. Whether getting pumped from behind or sitting on top to straddle TJís pole, Hunterís asshole gets an exhaustive workout. And the verbal teasing, abuse, taunting, and pleading highlights the action. Before long itís a race to the finish as the guys face each other and jack off to explosive results.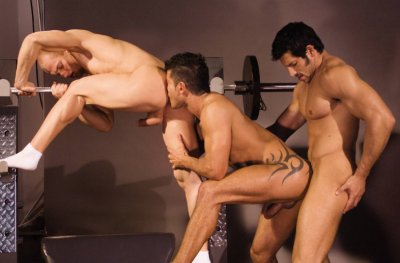 Scene 2: Ty Colt knows how fierce his physique is so it comes as no surprise when Adam Killian asks to photograph him. When Leo Giamani Ė an equally impressive paragon of male pulchritude Ė joins the modeling session, things heat up and when Adam jumps in, itís a bonafide symposium of the gods. As the action proceeds, itís Adamís oral skills that drive Ty and Leo crazy. He is downing their cocks deep inside his throat and then he is up their asses with his tongue. A 3-man daisy-chain follows with Ty inside Leo inside Adam. Then Leo screws Adam from behind while he works Ty over, sucking his cock and rimming his ass. The models trade places but Adam doesnít care; heís still getting it from both ends and loving every moment. With Ty still inside him, Adam beats himself off and cums in gooey gobs. Leo follows suit blasting Adamís chest with his spooge, and Ty finishes just as strong.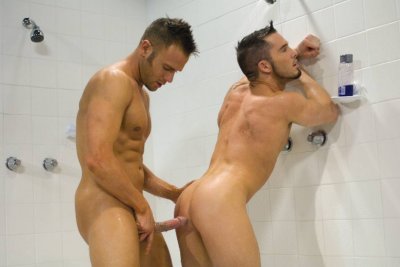 Scene 3: Putting in a lot of physical effort to improve their health and fitness, Aden and Jordan work hard under Tyís direction. But all that training makes them really horny and the guys are anxious to work off all that sexual energy. Alone in the locker room, intoxicated with the musky smells resulting from the strenuous exercise, they start to unwind. They start nursing on each otherís stiff cocks, tasting and enjoying the salty sweetness. The action continues in the showers as they take turns rimming each otherís puckered holes, before Jordan fucks Aden in the ass from behind. Then they hit the steamroom where Jordan resumes plundering Adenís hole. They work up a sweat in the sultry, humid room, their passion for each other burning hot until they reward each other with massive shots of jism. (See also: The Best of Aden and Jordan Jaric)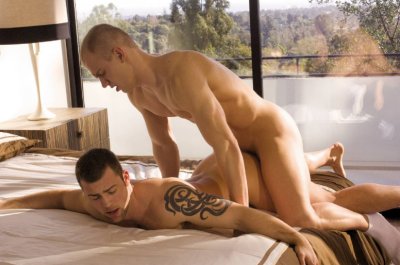 Scene 4: Needing a personal trainer, Trent Davis hits pay dirt when he spots Tyís ad. He calls the blond stud up and the two arrange a session. Ty is eager to give Trent his moneyís worth so they begin an intense workout. He puts his student through his paces, monitoring his technique and progress, building up his strength and stamina. Then he notices Trentís love muscle bulging for attention inside his shorts. Like all attentive coaches, he stops to minister to its needs. Ty slavishly works his tongue up and down Trentís cock before swallowing it down his throat. Then Trent, wanting to show that his lingual technique is just as skilled, starts sucking Tyís cock before he eats his ass. Ty takes charge and regains control by manhandling his protege, fucking him hard up his ass until they both climax and cum.
---

You might be interested in The Best of Aden and Jordan Jaric which features scene 3 from the title.
The Best of Aden and Jordan Jaric
See what makes Falcon's exclusive couple Aden and Jordan Jaric true Falcon Legends as they star in nine scorching hot full-length scenes from some of Falcon's greatest titles of all time, making The Best Of Aden & Jordan Jaric a must own.


See Falcon Studios The Best Of TJ Hawke which features scene 1 from this title.
'See what makes TJ Hawke a true Falcon Legend in The Best of TJ Hawke. Nine scorching hot, full-length scenes from some of Falcon's greatest titles of all time make this collection a must own'.