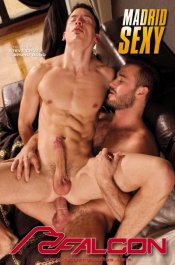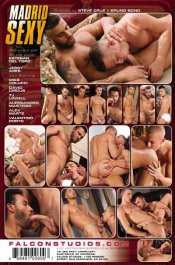 Summary:
Take a sex filled, lusty European trip with Falcon in Madrid Sexy. This time Falcon lets you cum along for the ride to Madrid, Spain's capital and largest city, and they show you some of the hottest European and Latin men. Madrid lies at the same longitude as New York City, it's not always warm and sunny, but it's always hot. It's the kind of heat generated by young Latino men on the street whose cocks twitch and prostates buzz in anticipation of their next orgasm. In Madrid Sexy, directors Steve Cruz and Bruno Bond land in the heart of Spain and keep their trained eyes peeled for guys needing to connect. First, they turn up lovers, like Valentino Porto and Alex Marte, a study in contrasts: burly - slim, hairy - smooth, big -- compact, and they share fiery intimate moments that will have you shooting. Next they uncover guys who meet on the street and succumb to instant lust. The anonymous sex shared by Jessy Ares and Esteban Del Toro is liberating. The intense Esteban sinks his sexual claws into the hot flesh of furry Jessy Ares, who knows exactly how to tame this Latin in heat. Sexy couple, David Circus and TJ Lowell are another pair of lovers know how to touch and make each other's cocks well up with precum. Their trip to Madrid has them feeling lusty. In the finale, a chance meeting between Alessandro Masterio and Mike Colucci in front of the bullfighting ring produces one of the most intense and passionate hook ups ever recorded on film. The moment their eyes lock, you know that these bulls are destined to fuck. After watching these super-charged, Latin encounters in Madrid Sexy, you'll be booking your next vacation to Spain's capital.
Description / Review:
Scene 1: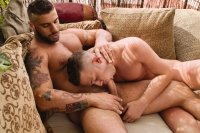 Valentino Porto and Alex Marte are walking through the city streets arm in arm, smiling and stopping here and there to kiss. Alex is a head taller, barrel-chested, bearded, hairy and inked. Valentino is his opposite: slimmer, smooth and clean-shaven down to his pubes. If you're thinking daddy-boy, you're right. But Valentino brings something extra to the relationship: a tongue so talented, he should give lessons. Whether tracing Alex's lips, flicking a nipple, or wrapping around Alex's cock like a flag around a pole, Valentino's tongue will make you pant. Alex uses his tongue, too, but for a more businesslike probing of Valentino's hole. There's no word for the strangled, gurgling sound Alex makes when his tongue is buried in Valentino's hole and Valentino's buns are clamped around his face. With Valentino's bubble-buns primed for cock, the fucking commences, on a sunny balcony. Daddy takes every opportunity to show his boy how much he likes him, rubbing his back and stroking his neck as Valentino squirms in delight and sucks daddy's fingers, putting his magical tongue to yet another use. Its final job is to lap up the thick spooge that Alex leaves plastered all over his face.
Scene 2: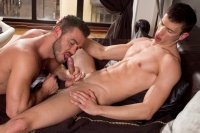 Jessy Ares, with his bohemian good looks, and sleek Esteban Del Toro meet on a public bench. They find it hard not to touch each other, and when you see how Esteban's ass fills out the seat of his jeans, you won't blame Jessy for wanting to touch. Transported to a sexy living room, they can get naked and indulge every sexual whim with the windows wide open for all the passers-by to see and hear. Jessy is burly and furry while Esteban has a perfect definition without much bulk. You also get primo looks at that ass, without the denim covering. Esteban lunges like a panther for Jessy's cock, moving the foreskin of his own cock back and forth over the head while he sucks. Jessy zeroes in on Estaban's sweet hole, massaging it in circles with his thumb so his tongue can go deeper. Then Jesse explodes in an attack that sends their lips crushing together while his cock drives deep into Esteban's hole. Esteban curls first into a fetal position, then he jumps on top for a sensuous ride that sets his massively erect penis swaying. Jesse's slams so hard and fast, his balls must hurt. Esteban's hole is stretched to its limit. Jesse pulls out as Esteban climaxes and their streams of jism arc and cross each other in midair.
Scene 3: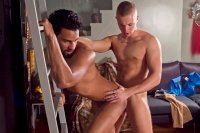 Hot couple David Circus and TJ Lowell get amorous while looking at photos they took during their day tour of Madrid. David offs his shirt and TJ takes the hint, nuzzling his beard into David's tummy and taking off David's pants. David's cock is narrowest at the base and widens towards the fat tip, which is shrouded in thick foreskin, though TJ's mouth does a good job at keeping most of it hidden. David then helps TJ out of his clothes and they make out like lovers savoring each other's familiar tastes and appetites. TJ gravitates towards the twin cocoa-colored mounds of David's ass, eating his fill, then standing to plunge his tongue into his lover's mouth so they can share the taste. TJ's pecs are smooth and deep, and they heave in David's grasp. The floor is where they fuck first, with TJ riding his lover's cock on a big fur rug. They conclude with a standing fuck, a contrast of black and white and give and take, with handsome TJ's cock swinging to the momentum of David's cock slamming into his butt. A side-by-side stroke-off shows two big cocks, one curved up and one curved down, sending cascades of cum onto the floor below.
Scene 4: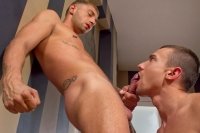 Mike Colucci's loose sweatpants fail to camouflage his tree-trunk thighs and killer ass. On the street, he catches the attention of Alessandro Masterio, who asks for the time and gets the time of his life. Unable to wait, Alessandro has to see and grope Mike's ass right there in front of the bullfighting ring. In return, Mike pulls Alessandro's cock and balls out where anyone passing by can see. That's fun, but they need a place to vent what's building in their balls. They're off to Mike's apartment, where they clutch and kiss with such urgency, you wonder if they will let go long enough to strip. Mike is deep-chested, freckled, smooth, muscular. Alessandro is slim and wiry, with body hair and a three-day growth of beard. Bare feet shuffle on the floor as they kick off shoes and pants. Down to tighty whities, they grind their boners together. Mike drops to his knees, wraps his arms around Alessandro's hips and licks and swallows until he nearly gives himself — and Alessandro — whiplash. Then he turns and crouches like a runner at the starting blocks for Alessandro to savor one of the hottest asses on the planet. A sit-fuck follows, with Mike's muscular back and tan-lined buns in rhythmic thrusts as Alessandro probes his depths. Mike shoots his cum into Alessandro's mouth as Alessandro's load streams out of his cock.
Additional Information
Categories: UK R18 / XXX Gay Adult
Running Time: 90 mins, Year 2013
Price: Around £29*
Starring: Esteban Del Toro, Jessy Ares, Alessandro Masterio, Alex Marte, David Circus, Mike Colucci, T.J. Lowell, Valentino Porto
Director: Bruno Bond, Steve Cruz
Studio: Falcon Studios
Buy DVDs online at: Simply-Adult.com, Homoactive and Radvideo (USA)
Gay Video On Demand: Falcon Studios See also: www.gayvod.co.uk
Member site: Falcon Studios
Country: USA, Language: English
Additional info: No Regional Coding